AUDIBLE AND FUN GROUP TOURS
If you have a group who want to experience London and who are looking for a guide to take them on a tour of the Capital's well known and lesser known sites, then Richard Jones can help.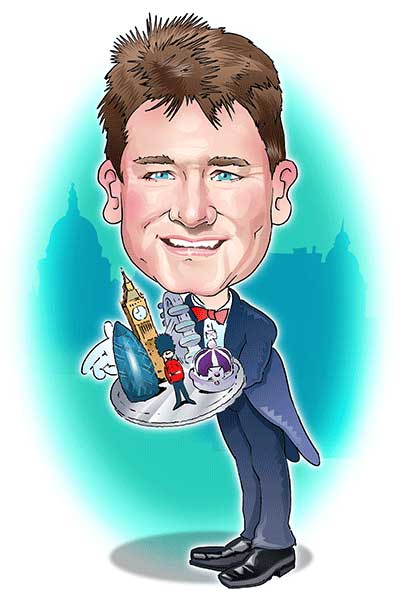 Richard's voice can carry to even the largest group size, and many who have joined Richard as part of a larger tour group have commented on the fact that they could hear every would clearly and distinctly, even against the background noise of heavy London traffic or, as has happened on several occasions, with the bells of St Paul's ringing out above the group!
Any of Richard's London tours can be privately booked by groups wishing to see London.
Alternatively, you can tell him what you want to see, or let him know a chosen theme or subject, and he will tailor a tour to your specific requirements.
OFFICES, TEAM BUILDING AND SOCIAL CLUBS
If you and your work colleagues want to get out and about and discover the lesser known parts of London then Richard has several tours that fit the bill.
Chief amongst these is the Secret City Tour, which makes a great way to while away a few pleasant hours of a morning, an afternoon or an evening, as you dip in and out of the history-steeped alleyways and courtyard that snake their way through the heart of the old City.
You can also enjoy a similar tour exploring the streets and alleyways of Secret Westminster as you explore the hinterland of this well-known district that exists beyond the pomp and ceremony.
You can, if you wish, include a few pub stops en route in which time can be allowed to enjoy a libation of your choice, thus turning the tour into a social occasion in its own right.
Just take a look at various tours Richard offers and let us know which one you wish to take and he'll set about preparing and providing you with a tour to remember.
COACH TOURS FOR VISITING GROUPS
Richard can also conduct a range of coach tours of London for visiting groups whereby he boards your pre-arranged coach and takes your group off on a tour around London.
You might want to see the major sights and attractions on an enjoyable and informative panoramic sightseeing tour that features places like The Tower of London, Westminster Abbey, St Paul's Cathedral as well as a whole raft of the lesser known attractions that lie between them.
You might wish to concentrate on a more specialised tour such as Literary London, Criminal London or even the pubs of London.
You might like to combine a morning tour of London, that features the Change of the Guard, with an afternoon tour that takes you out to Windsor Castle.
Again, Richard can oblige and is able to guide all of these tours.
If you don't have a coach already Richard will be happy to suggest a reliable company that can provide one for you.
OTHER PRIVATE GROUP TOURS
A hugely popular tour with private groups, be it with visiting groups, office socials or even coach tours on a day or a weekend trip to London, is the Jack the Ripper Tour which delves into the sinister East End thoroughfares where the infamous Whitechapel Murders occurred in 1888.
Again, the tour can feature a few stops to slake your thirst, and recover from the horrors you have witnessed, in a few of the hostelries that are still much as they were in the 19th century.
Another popular tour with groups is a London Ghost Walk. Richard has several areas of London where he conducts haunted tours so just let us know which area you are interested in and let him plan a spooky and fascinating tour for you.
If you'd like to see a totally different side of London, then why not book a tour of one of the villages of London, such as Hampstead, Chelsea or Clerkenwell?
Alternatively, you could explore the riverside pathways that run through the heart of old Docklands, or for something completely different, you could delve into the enchanting squares and timeless passageways of the Inns of Court on a tour of Legal London.
SITE SPECIFIC TOURS
As a fully qualified Blue Badge Guide Richard can guide inside places such as The Tower of London, Westminster Abbey, St Paul's Cathedral and Windsor Castle.
He can even get the group in without them having to wait in the normal lines and, once inside, he can deliver a tour that will enhance your groups understanding and knowledge of the history and the working of each of these fantastic locations.
SCHOOL AND COLLEGE TOURS
Richard can also organise tours around a particular subject as part of a school or college curriculum.
Many schools and colleges, for example, like to bring their students on a Jack the Ripper Walking Tour, and Richard can ensure that the tour he takes your school or college on is tailored to whatever aspect of the case the students are studying - be it social history, criminal investigation techniques, or even critical assessment.
If students are studying Dickens, then Richard can offer a tour that looks at 19th century London, or one that focuses on a particular Dickens novel or the different aspects of the life and times of Charles Dickens.
If Shakespeare is more in line with the coursework the students are studying, then Richard can offer several tours around the streets that Shakespeare knew and angle the tour so that it looks at the life of Shakespeare, the Elizabethan theatre, or even an overview of Tudor London.
He and his fellow guides can also offer tours that take in other eras of London's past, such as Roman London, Medieval London, The Blitz, or even the Swinging Sixties.
In short, whatever your educational requirements, Richard can organise a tour that will be tailored to your exact wishes.
JUST ASK AND IT CAN BE DONE!
So, if you have a group in London, and you are looking for a way of exploring and experiencing the rich diversity of this great and fascinating City, then just have a look through the various tours that Richard can offer and then either email us, or give us a call, and let the adventure, well and truly, begin.