This is the big one. The mother of all tours! The tour that reaches parts of London that other tours don't reach, but which also takes in the major attractions that have helped make London famous throughout the World.
Richard will meet you at your hotel, or at a pre-arranged location of your choice, and, having decided on the itinerary - which will be as flexible as you want it to be - you will set off to spend a few hours, or an entire day, exploring and discovering London.
HOUSES OF PARLIAMENT AND BIG BEN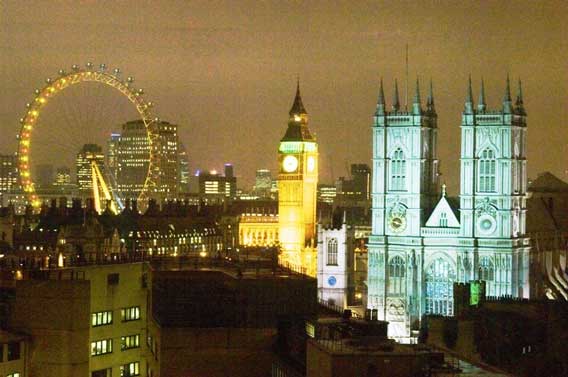 Our first port of call will be Parliament Square, where you will find yourself surrounded by a magnificent array of London landmarks. Big Ben, the Houses of Parliament, Westminster Abbey, you simply won't know which one to take in or photograph first!
Don't worry though, Richard knows the best vantage point from which to get the most memorable views and the most impressive photos.
OVER THE RIVER THAMES
Then, we're off over Westminster Bridge for a stroll along the south bank of the River Thames from which more absolutely stunning views of the Houses of Parliament are possible.
We'll also encounter Tudor London's finest 16th century gatehouse, and the grave of Captain Bligh, of mutiny on the Bounty fame, both of which are hidden away on this little visited side of the Thames.
HIDDEN WESTMINSTER AND THE ABBEY
Back over the river next, for a peek in to the hidden backstreets of Westminster where we will encounter the cloistered World of a sleepy college at which many of England's famous and most colourful figures, both past and present, were educated.
This will bring us to a great vantage point from which we will enjoy some majestic views of Westminster Abbey, the Coronation church inside which almost every King and Queen of England has been crowned since 1066 and where many of them lie buried.
Richard will regale you with its riveting and eventful history and will share some colourful tales about it.
If you wish, and subject to its being open, Richard will also be able to take you inside without having to line up!
WHITEHALL, DOWNING STREET AND ROYAL LONDON
Having made our way along Whitehall, taking in Downing Street, the home of the British Prime minister, and seeing the old Banqueting House, outside which Charles 1st was beheaded in 1649, Richard will get you up close and personal alongside the Horse Guards, where you can get a photo, and even stroke the horses. But, for reasons which Richard will explain, don't give them an apple.
Royal London awaits your discovery next, as we pick our way along the leafy pathways of a lovely park to stand on a bridge from which you will enjoy one of the most impressive views of Buckingham Palace imaginable. You'll even get to see Westminster's secret palace, one that is, in fact, an optical illusion which fades away in to nothingness as we approach it. Still. it's pretty impressive whilst it's there though!
Having paused for photos outside Buckingham Palace, and having stood alongside the guards who keep watch outside the London home of Prince Charles and Camilla, we make our way to Trafalgar Square to pay homage to one of England's greatest naval heroes, Admiral Horatio Lord Nelson, whose column towers over the square.
A MEMORABLE BUS RIDE
At this point, we will board a bus for a comfortable ride along Strand, taking in some truly magnificent buildings and gazing upon some lesser known ones that many people pass on a daily basis and don't notice how impressive they are!
We will take in the soaring splendour of the Royal Courts of Justice, a vision of Gothic Revival architecture, before we leave the City of Westminster and enter the City of London.
Here, from our lofty vantage point atop a double decker red London bus, we'll catch a tantalising glimpse of London's oldest domestic dwelling, which dates from 1610. We'll drift past London's oldest clock, where two ancient giants still strike the hours, just as they have been doing, day in and day out, since 1683, and we'll get an absolutely stunning view of Sir Christopher Wren's most glorious church tower, the wedding cake spire of St Bride's.
ST PAUL'S CATHEDRAL
Hopping off the bus, we'll arrive at the aforementioned Sir Christopher Wren's undoubted masterpiece, St Paul's Cathedral. Here, Richard will treat you to a breathtaking study of its splendid exterior and, if you wish,and subject to its being open, he'll even take you inside to whisk you around the highlights of its interior.
A MAGNIFICENT VIEW POINT
Across from St Paul's is one of London's best kept secrets, a rooftop viewing platform from which one of the most incredible views of London's skyline is to be had. This proves a genuine surprise to many people, and Richard always awaits, with eager anticipation, the gasps of gleeful amazement when his clients behold the sheer magnificence of the vista that stretches before them.
THROUGH THE HEART OF THE CITY
Back down at ground level, we will next branch off into a muddled maze of old alleyways and hidden lanes where we will encounter some of the City of London's most history steeped streets. Here we will encounter an array of ancient buildings, such as the church the bells of which chime out to mark the birth of a native Londoner, a cockney; the medieval palace of London, the walls of which crackle with history and atmosphere; and a church that remembers the King whose greatest deed is immortalised in the song "London Bridge is Falling Down."
Via, a twisting warren of timeworn alleyways, we make our way past more City institutions, such as the Bank of England, the Mansion House, home to the City's Lord Mayor, and the spectacular Royal Exchange, the origins of which go back to the mid 1500's.
As the lanes and streets get narrower, you will find yourself craning your neck to catch a glimpse of the golden ball of flame that surmounts the Monument that marks the spot where the Great Fire of London began in September 1666.
THE TOWER OF LONDON AND TOWER BRIDGE
From there, via a lovely church ruin, and past a somewhat gruesome gateway from the arch of which sinister skulls still leer down upon us, we arrive at our last two London landmarks of the tour, The Tower of London and Tower Bridge.
Again, there'll be plenty of time to get photos from the best vantage points and, if you wish, Richard can even bypass the lines and take you on a highlights tour of the interior of the Tower of London.
So, if you want to get the most out of your time in London, and you want to get an understanding of the layout and the history of this great city, then let Richard Jones guide you on a breathtaking journey through two thousand years of captivating history in the course of which you will discover that Dr Johnson's oft quoted quip that "when a man is tired of London he is tired of life" is still as true today as it was when he made it almost 300 years ago.