The Inns of Court are totally unique in ambience and character, and there really is nowhere else quite like them in the whole of London, if not in the whole of England.
Between them, the four Inns - Inner Temple, Middle Temple, Gray's Inn and Lincoln's Inn - contain some of London's most picturesque and tranquil places, and to explore their flag-stoned lanes, hemmed in courtyards, timeless cloisters and ancient buildings is one of the most amazing experiences imaginable.
This area is the domain of the wigged and robed English barrister, the World of the law in all its pomp, ceremony, tradition and absurdity. It is an area where custom is rife, and refinement is all. It is an area from which the past has yet to depart, an enchanted, and enchanting, enclave to which Charles Dickens words that "you can read on its gates 'who enters here leaves noise behind'" are still as true today as they were when he wrote them in the mid 19th century.
GRAY'S INN - A TRUE TIME CAPSULE
We begin in Gray's Inn and, within a few short moments, we've encountered a dining hall where one of William Shakespeare's most popular plays premiered in the 1590's.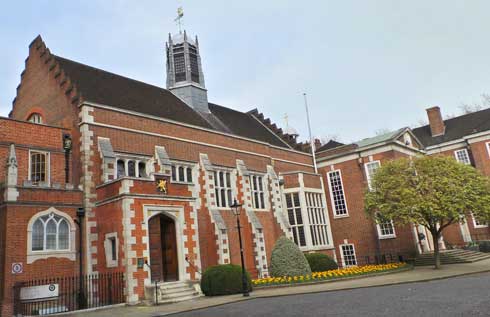 Nearby, there is the old wooden stool on which generations of bygone messengers would have sat awaiting the summons from the surrounding chambers that would send them off to run errands all over London.
Close to that is the water pump that slaked the thirst of legions of lawyers in days of yore.
These are just two of the curiositie that help add to the overall feeling of antiquity with which the surroundings are imbued.
But, an even more impressive curioisty is close at hand. For, moments later, you'll find yourself standing outside the office where Charles Dickens worked as a clerk at the age of fifteen.
And that's all within the first fifteen minutes of setting out on the tour!
LINCOLN'S INN - A MOVIE SET CORNER
Then, we're off to Lincoln's Inn, in many ways the most picturesque of the four Inns of Court.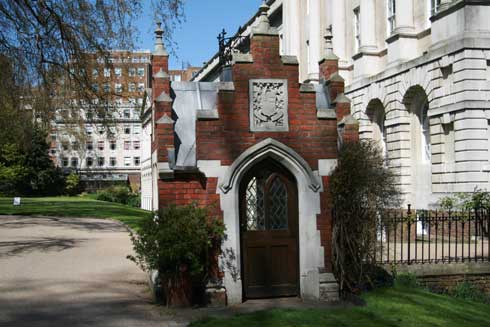 Indeed, as you will hear, numerous period television dramas and blockbuster movies have been filmed around its sleepy squares and tranquil cloisters.
You'll stand at the very location that inspired John Donne's famous lines "never send to know for whom the bell tolls; It tolls for thee." You'll see the old dining hall (c1495) inside which Charles Dickens set the dramatic and memorable opening for his most scathing attack on the English legal system, Bleak House; you'll encounter what is surely one of the World's most unique and unusual garden sheds; and you'll explore buildings, courts and passages that are more reminiscent of a peaceful Oxbridge college than the cut and thrust world of the law.
THE ROYAL COURTS OF JUSTICE
Onwards, via the soaring splendour of the Royal Courts of Justice, alongside which we will pause to take in some of the building's truly exquisite architectural features.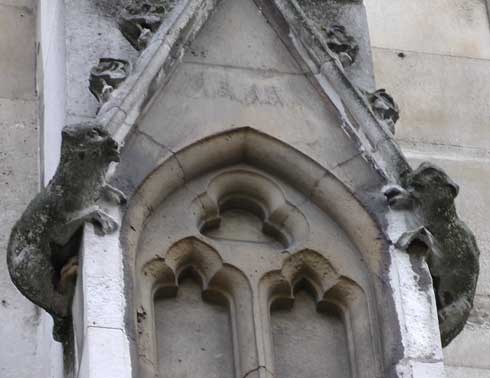 From the stone dogs and cats that growl at one another around a stone column, and which are intended to represent the quarrelling litigants within, to the lofty statues that look down from on high and which depict famous figures who helped lay down the foundations upon which the English legal system was built.
You can, if you wish, also go inside the buildings to sit in on one of the cases and witness, first hand, the legal system at work.
THE MIDDLE AND INNER TEMPLE
Having enjoyed the full drama of the Law Courts, and the building that houses them, we find our way into our final two Inns of Court, Middle and Inner Temple.
Again, this is very much a film set quarter of the modern Metropolis and you will, most certainly, recognise many of the buildings and lanes that you stroll along from movies such as Sherlock Holmes and The Da Vinci Code.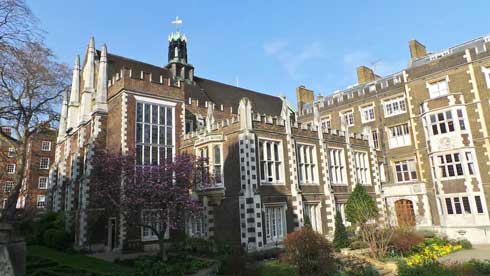 We will pass an Elizabethan dining hall that is still much as it was when Shakespeare's Twelfth Night was first performed within its history-laden walls in 1602.
You'll see the Temple Church, a glorious pile of ancient stone built by the original occupants of this area, The Knights Templar, in 1185.
You'll twist and turn through cobbled courts, past picturesque gardens, through sleepy squares and down narrow alleyways as you fall further under the spell of this enchanting enclave that has changed little, if at all, since Charles Lamb observed of it "men would give dearly to be born in places such as this."
And, he should know, he was born here!
So, if you want to experience a part of London that is totally unique for atmosphere, layout and history.
If you want to learn about some of the most colourful characters to have graced the pages of English history, and hear some of the wonderfully witty quips that fell liberally from their lips.
If you want to learn about the customs and traditions in which the Inns of Court are steeped.
Then join Richard for a magical journey that will, well and truly, transport you back in time.