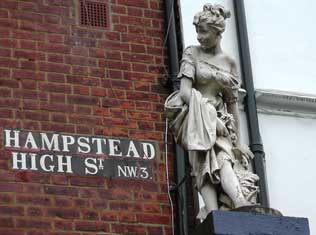 If Ricky Gervais, Michael Palin, Liam Gallagher, Boy George, Jeremy Irons, Emma Thompson and Harry Stiles, have chosen to live in a particular area.
If Judy Garland, Elizabeth Taylor, Peter O'Toole, Jim Henson, H. G Wells, the artist John Constable, the poet John Keats, and the author Charles Dickens, either visited or lived in that area in bygone times, then the area in question must have a certain something that makes it special and unique and it must, therefore, be worth a visit, if only to see for yourself if it really is as special a place as such an illustrious cast of residents and visitors, both past and present, would suggest.
Fortunately, Hampstead is special, and it can, and will, deliver on all counts. It is London's country village, perched on a hill high above the traffic clogged streets of Central London, and it is as far removed from the modern Metropolis as it is possible to be.
A GLORIOUS PROMENADE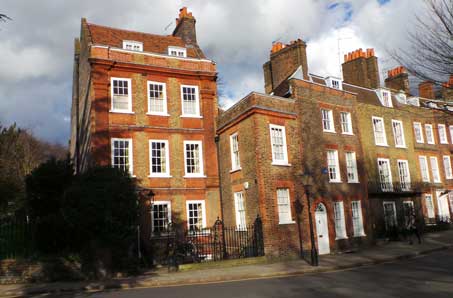 The Hampstead tour begins with a stroll along one of London's most glorious promenades, lined by an eclectic mix of 17th, 18th and 19th century abodes.
Here we encounter the former home of H.G. Wells, the father of modern science fiction, a house which, coincidentally, was later owned by the satirist Peter Cook who entertained the likes of Keith Richards and John Lennon here at lavish dinner parties.
WHERE THE GREAT, THE GOOD
AND THE NOT SO GOOD ARE BURIED!
We then find ourselves in one of London's most hauntingly beautiful churchyards where we visit the graves of a host of famous figures from the past.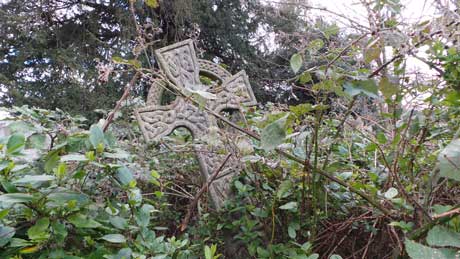 The artist John Constable, the clockmaker, John Harrison (he of Longitude fame), the Llewelyn Davies brothers, who inspired the creation of J.M Barrie's Peter Pan, and the actress Kay Kendal, are just a few of those whose final resting places we will encounter.
And, please don't worry if you don't know that much about them, Richard will fill you in on their stories, and will treat you to gossip and anecdotes about them with the result that, by the time you leave this sleepy churchyard, you will feel that you are bidding farewell to old friends!
FAMOUS RESIDENTS PAST AND PRESENT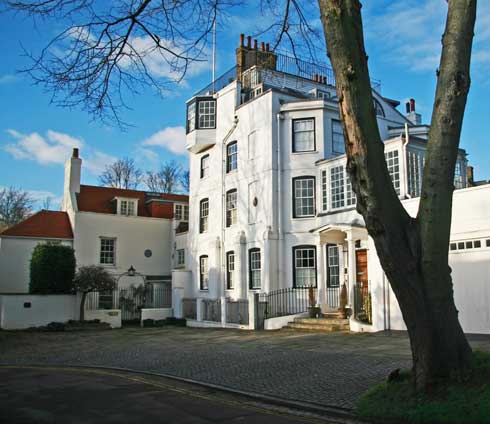 Onwards, we make our way past the picturesque cottage where Dame Judi Dench lived for many years, see the church where the man whom Winston Churchill dubbed "The Monster of Hampstead" used to worship, stand outside the building from which the first Hampstead Police force set out on patrol in the 1830's, gaze out the house where Robert Louis Stevenson, author of Treasure Island and The Strange Case of Dr Jekyll and Mr. Hyde once lodged, and end this section of the tour at what is, quite literally, a high point of our adventure, as we gaze out and down across the London skyline, nestling in the valley beneath us. It's dreamy, magical and an absolutely stunning vista.
STUNNING VIEWS AND LOVELY HOMES
But there's more, much more.
For we're then off on a true journey of discovery on which every corner turned, hill top crested, and every step taken, throws up a new surprise.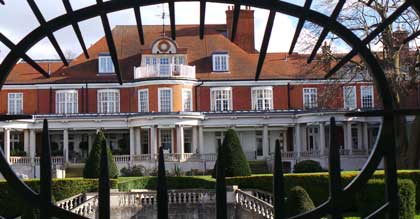 How about Sting's former home, or the picturesque cottage where John Constable holidayed in the1820's and where he painted some of his most inspired skyscapes?
How about Hampstead's secret Garden - a tucked away haven that lies hidden away behind a glorious mansion that was once one of the largest private residences in the whole of London?
How about the home of one of the 1980's most iconic pop stars, or the childhood home of Daphne Du Maurier, or the house of the architect whose designs, tradition insists, so angered Ian Fleming that he named one of his most infamous Bond villains after him in a glorious fit of writer's pique!
HAMPSTEAD HEATH
WHERE LONDONERS DRAW BREATH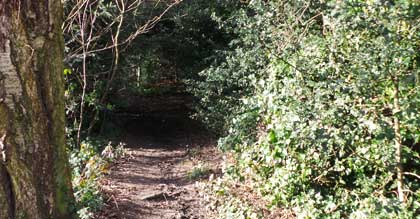 Finally, there is what Hampstead is most famous for, its glorious heath, a sprawling wilderness that stretches across acres, and which offers yet more stunning views of the London skyline cradled in the valley below.
Here, with the wind in our hair, as we meander along earthen paths and through wooded copses, it will feel like we're, quite literally, walking on the roof of London.
ENCHANTING, ENGAGING AND TRULY MAGICAL
There's no doubt about it, Hampstead is a special and magical enclave.
It is the jewel in London's crown and, once you've been introduced to its picturesque lanes, cobbled alleyways, pretty Victorian cottages, secret walled gardens and unsurpassed vistas, you'll find yourself falling under its spell and you'll want to, just like so many visitors before you, return to the village on the hill time and time again.