If there is one writer whose name is indelibly linked with London it is Charles Dickens.
So many of the Capital's streets and buildings appear in his novels that it is possible to actually set off into the centre of London armed with a set of his complete works and use them as step by step guides to Victorian London.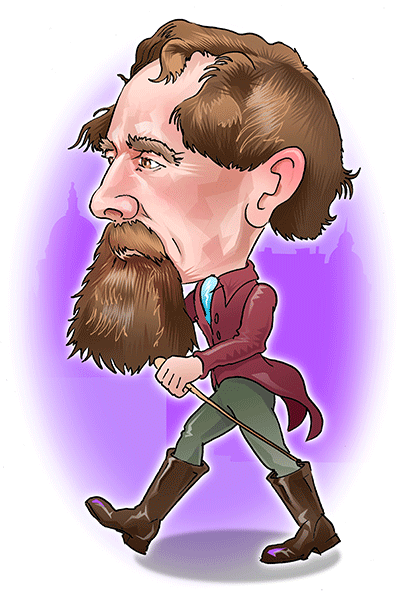 That, though, might not be practical as they would, no doubt prove quite heavy!
So, the next best thing, is to take a tour around Dickens London.
From his teenage years to the day he died Dickens knew London's streets, alleyways, buildings and thoroughfares intimately, and his books provide us with an unrivalled insight into the people and places of the 19th century Metropolis.
As the author of Walking Dickensian London, Richard Jones knows a thing or two about the City as Dickens knew it and on this tour he'll take you on a breathtaking journey to uncover places that have changed little, if at all since Dickens's day and which are still much as they were when he visited them and featured them in his novels.
Indeed, you'll gain such a fascinating insight into Dickensian London that it'll be as though you've been transported back to the 19th century city and you're walking alongside the man himself as he draws inspiration from the streets and buildings that surround you!
BEGIN AT THE DICKENS HOUSE MUSEUM
The tour can even begin with a visit to the Dickens House Museum where Richard can escort you around the rooms and explain how the various exhibits featured in the life of English literature's greatest novelist.
From here we will pick our way through streets that featured in such memorable novels as Oliver Twist, Pickwick Papers and David Copperfield.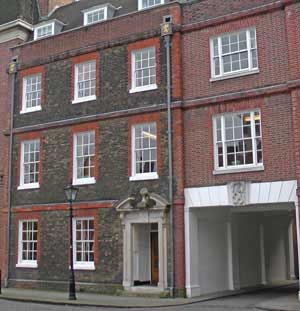 Ducking into Gray's Inn, one of London's four Inns of Court, you will stand outside the building where young Charles worked as a clerk at the age of fifteen, and hear how, ever fond of a practical joke, the boy who would be Boz used to drop cherry stones onto the hats of passers-by below from the upper windows!
You'll also discover how, even at such a young age, those who worked alongside him were amazed by his knowledge of London and get to view the budding young author through the eyes of his contemporary clerks.
Later, he would feature the square in which you will be standing in his first novel,Pickwick Papers, whilst several of the clients he came into contact with would share the distinction of being immortalised in his early works.
A KNOCK ON THE DOOR AND HIS LIFE CHANGED
Following in Dickens footsteps we then make our way to the site of Furnival's Inn, where, standing before a particularly fine bust of the man himself, Richard will explain how, during Dickens tenure here, he began work on Pickwick Papers, the work that established him as a writer and transformed him from a jobbing journalist into an international celebrity.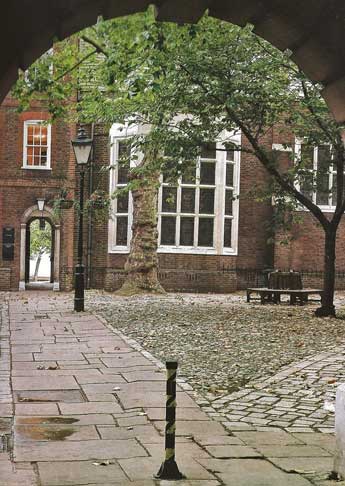 Onwards, via the place where Pip lodged when he first arrived in London in Great Expectations, and past the soaring church tower that Bill Sikes and Oliver looked up at in a memorable scene in Oliver Twist, Richard will spirit you through a glorious old gate where you will stand in a secluded courtyard that has not changed since Dickens wrote of it that it gives to the tired pedestrian the sensation of having put velvet soles on his boots and cotton in his ears.
It is a truly enchanting place and, as you stand in the inner sanctum of its tranquil courtyard, the rush and noise of 21st century London will be reduced to nothing more than a distant murmur.
He also featured it in his last, and unfinished, novel The Mystery of Edwin Drood, and Richard will even show you a carving that Dickens actually mentions in that book.
YOUNG CHARLES GETS A BLACK EYE!
In through the 16th century gates where the fifteen year old Dickens received a black eye, we find ourselves immersed in the rarified world of Lincoln's Inn where, before us, will be the glorious old dining hall (c1495) inside which Dickens set his memorable opening scene in Bleak House by comparing the goings on in the court that used to meet here to a London fog. This is one of Richard's favourite Dickensian passages and he will treat you to a dramatic rendition of it.
This really is a truly picturesque part of London and it so typifies the Dickensian Metropolis that it is often used as the backcloth for television and film adaptations of his works.
The tone will then, well and truly have been set as we take in our surroundings and ponder Dickens love hate relationship with the law.
You may, or may not, be aware of the fact that Dickens wasn't particularly enamoured by lawyers. Indeed some of his most oft quoted quips concern the absurdities of the English legal system and the machinations of those who practised in it. So the fact that he singled out our next building as the place where lawyers skulls should be placed, to enable medical science to see how thick a skull can become, a must.
TOO GOOD TO BE TRUE BECAUSE IT ISN'TRUE
Which then brings us to the Olde Curiosity Shop, a gloriously quaint little structure that wasn't in fact, the one that, as is claimed on the facade, "immortalised by Charles Dickens." But, worry not, Richard will take you through the whole hilarious story of how this little misunderstanding came about.
A DICKENS OF A CHRISTMAS
Having paused outside the former home of Dickens greatest friend, and primary biographer, John Forster, and having pointed out the room therein where, in December 1844, Dickens gave a private reading from his newly completed Christmas book The Chimes, the tour will wend its way via a warren of time worn alleyways to take you into a magical area of sleepy squares and picturesque passages that are still as they were when Dickens advised that you can read on the gates "who enters here leaves noise behind."
WHO ENTERS HERE LEAVES NOISE BEHIND
You will see the building in which Pip was living when the convict Abel Magwitch turned up one storm-tossed night to reveal himself as the source of Pip's Great Expectations; you will stand alongside the sparkling fountain at which Dickens set a memorable scene in Martin Chuzzlewit; you will see the cobbled walkway along which Sidney Carton strolled in A Tale of Two Cities; and you will visit the grave of the 18th century author from whom Dickens got his original alias, Boz.
THE ALLEYWAYS WHERE BOZ FIRST SKETCHED
Finally, having snaked in and out of the atmospheric old alleyways that lurk behind the buildings on Fleet Street, and having gazed upon the oldest clock in London, one that fascinated Dickens as a young boy, we duck into the alleyway where his career as a writer began, before finding our way to Ye Olde Cheshire Cheese, a pub that is one of London's most historic literary landmarks. Its creaking floors, narrow stairs, time-locked walls, glowing fires and low beamed ceilings, that are just as they were when Dickens knew them, make the ideal surroundings in which to end our magical journey through the streets, courts, alleyways and thoroughfares that were, are and always will be - Dickens London.
AS TINY TIM MIGHT SAY
Here, in the atmopsheric surroundings of this venerable old drinking establishment, you will be able to relax, mull over the amazing and fascinating discoveries you have made on your Dickens tour of London and, should the mood take you, you can even raise a glas and utter that time-honoured Dickensian saying "God bless us, Every One!"