The hidden passageways, elegant streets, picturesque parks and historic houses that nestle, cheek by jowl, alongside Buckingham Palace, are an absolute joy to discover and, on Richard's Royal London Tour, you'll encounter the best, the most picturesque and the most fascinating of them.
AN ARCHITECTURALLY PLEASING PROMENADE
The tour begins with a stroll along what is widely considered to be one of London's most exquisite thoroughfares, Queen Anne's Gate.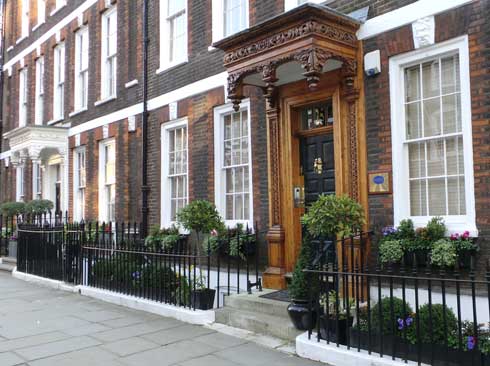 Here, delightful 18th century houses boast a stunning and varied array of absolutely stunning porches, whilst carved stone faces, their features twisted and contorted into curious and bizarre expressions, leer, grin, grimace and gurn at us from the upper stories of the properties.
Richard will point out the various features of the exquisite properties we encounter and will also tell you about some of the illustarious figures who, over the years, have lived behind these delightfull façades.
VIEWS, VISIONS AND A SECRET PALACE
Having enjoyed this genuine throwback to a bygone age, we stroll across St James's Park to pause on the bridge that crosses its lovely lake.
From this vantage point we get an absolutely stunning view of Buckingham Palace. Indeed this is a photo opportunity not to be missed and we shall linger for as long as it takes for you to get the big one, the shot that will impress all who see it and which will bring back happy memories of your day out in Royal London for years to come!
You'll also get a terrific view of London's secret palace.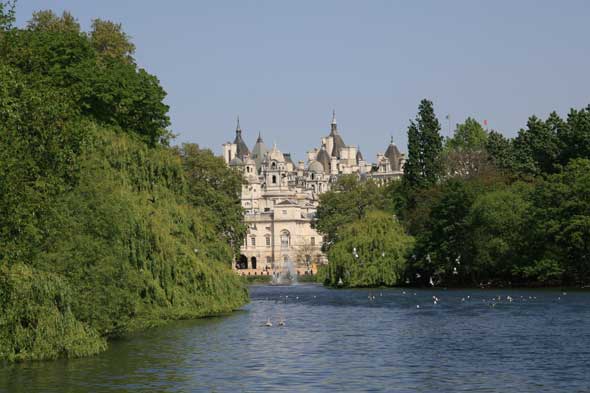 Why secret?
Well, quite simply, it doesn't actually exist.
The turrets and pinnacles that, to all intents and purposes, give the impression of a grand and spectacular palace are nothing more than an optical illusion, the combined result of several prominent buildings coming together to tease the tourists with a truly marvelous mirage that simply dissolves into nothingness the moment you begin to approach it.
A PEEK AT THE ROYALS AT HOME
Our journey then heads for the Royal Palaces, the ones that do exist, although we won't, of course, be able to venture inside them.
But, worry not, for Richard will treat you to such an eloquently loquacious account of their histories and highlights that you will leave each one convinced that you've been invited into their exclusive interiors and that you have supped with the Royals both past and present.
BUCKINGHAM PALACE
First up is Buckingham Palace, the London residence of Her Majesty, The Queen.
Now, at first glance, you might feel that, separated from the actual palace itself by a high fence and extensive parade ground - it is here, after all, that the Change of the Guard takes place - there isn't that much chance of actually seeing anything.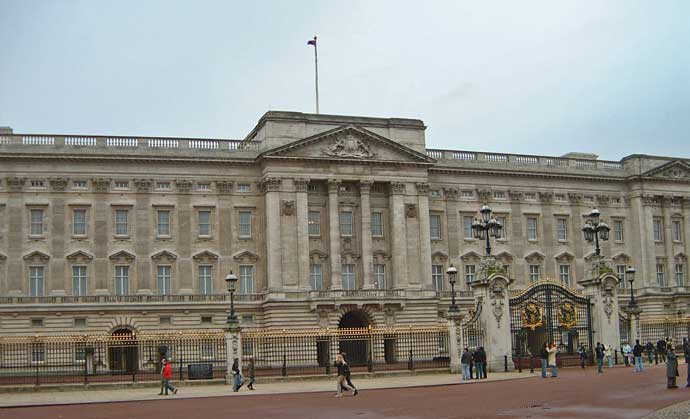 But, look again.
For there are plenty of recognisable features and intriguing aspects of the palace that can be glimpsed, even from this distance - if you know where to look. And, if there's one thing that Richard has gleaned from his years of experience of bringing people here, it's knowing exactly where to look.
So, standing there, surrounded by the milling throngs, Richard will direct your gaze and, suddenly, Buckingham Palace, both past and present, will come vividly to life.
You'll hear of the monarchs who have lived behind the magnificent façade that shimmers on the other side of the courtyard.
The great ones, the good ones, the bad ones, the mediocre ones and the oh, I'd forgotten all about him ones.
And, as this meandering cavalcade of Royal history parades before you, looming over you will be one of Buckingham Palace's most recognisable features, the "waving balcony" on which successive generations of the Royal Family have appeared to wave from at times of celebration.
CLARENCE HOUSE - PRICE CHARLES'S HOME
Waving our own right royal goodbye to a palace that, by this time, you'll feel you know intimately, we'll make our way the short distance to Clarence House, the London home of Prince Charles and Camilla.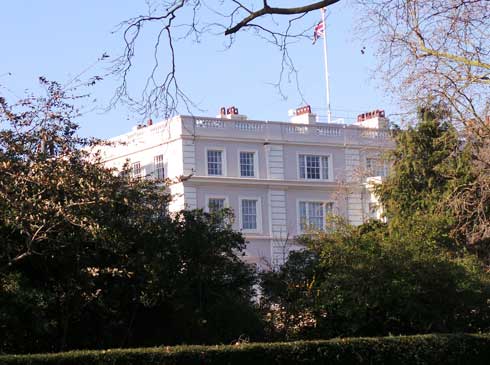 Again, Richard will treat you to a narrative that will, well and truly, bring this particular Royal abode to vivid and vibrant life.
Clarence house was, for many years, the London home of the late Queen Mother, a lady whose lifetime spanned a huge period of both English and World history and Richard will outline some of that history and tell you of the role that she played in it, often working tirelessly and subtly behind the scenes.
Clarence House, like Buckingham Palace, also has its guards, albeit these ones are actually on duty outside the gates so you will be able to get some great close up photographs of them.
ST JAMES'S PALACE
A hop, skip and a jump - or, if you would prefer, a slow amble - will bring us to the old Tudor gatehouse of St James's Palace, the official residence of the Monarch.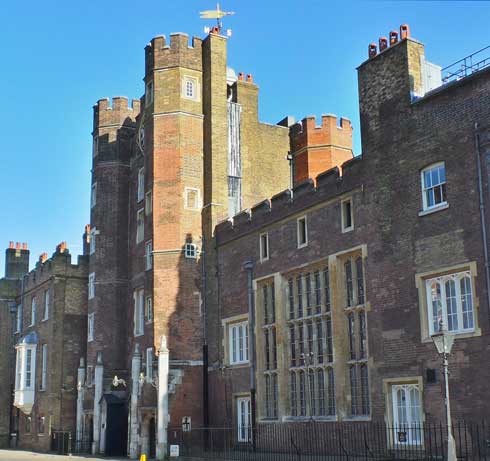 Okay, okay it's, to say the least, slightly confusing.
The Queen might live in Buckingham Palace but, officially speaking, she lives at St James's Palace, although she doesn't actually live there because she lives at Buckingham Palace.
Are you with me so far?
Anyway, residential confusion aside, St James's is the oldest of the London palaces and, as we stand before its soaring and truly magnificent Tudor gatehouse, we will embark upon a roller coaster of a journey through almost 500 years of Royal history.
It's all here, writ large across the very fabric of the palace façade.
Intrigue and betrayal. Romance and betrayal. Friendship and betrayal. Laughter and betrayal. Royal weddings and spousal betrayals.
Yep, if there's one thing English Royalty has excelled at over the centuries it's betrayal and, standing before a palace that was constructed as a honeymoon home by that master of betrayal, Henry V111, you'll enjoy a glimpse of the Royals and their noblest and nastiest.
A LITTLE ROYAL RETAIL THERAPY
A little light relief next as we take a stroll through the refined world of royal shopping habits.
When it comes down to it the Royal family are pretty much like the rest of us when it comes to stocking up on life's necessities such as diamond tiaras, caviar, truffles, gold encrusted trainers and bejeweled boxers.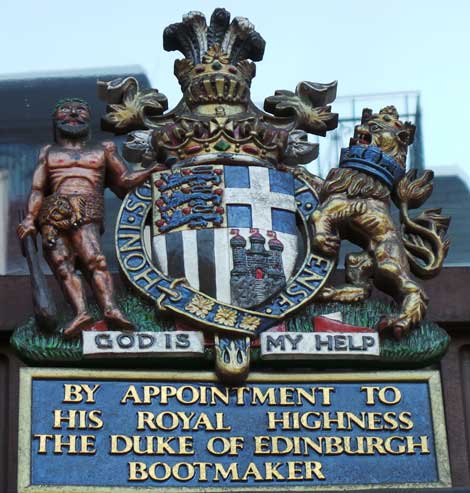 Where they differ slightly is that the Monarch doesn't go to the mall (apart from The Mall in front of Buckingham Palace) but rather the mall goes to the monarch.
So we next make our way past a series of shops whose staff have, for centuries, been making regular rounds of the palaces to pamper to the demands of Kings, Queens, Princes and Princesses and provide them with fine wines, hats, boots, shoes, cigars and anything else that is conducive to daily life inside a Royal Palace.
The devoted service that many of these shops have provided, and which they still provide, seldom goes unrewarded and several of them proudly display their Royal Warrants on their façades to show that they are suppliers of particular items or services to members of the Royal family.
A GLORIOUS END POINT
Having explored the streets of Royal London, we'll end our tour with a truly grand finalè the magnificent Burlington Arcade.
This delightful shopping mall, for that is in essence what it is, dates back to the early 19th century and it is so steeped in the traditions of the past that its elegant corridor is still patrolled by top-hatted beadles tasked with stopping you singing, whistling or hurrying.
But, to be honest, the last thing you'll want to do here is hurry, for its timeless a place as you could ever wish to encounter.
Unfortunately, it may well prove such an utter surprise, that you might be tempted to whistle in delight, and then the beadles will pounce!