The game is well and truly afoot as we set off on a tour of Victorian and Edwardian London to follow in the footsteps of Holmes, Watson and their creator, Sir Arthur Conan Doyle.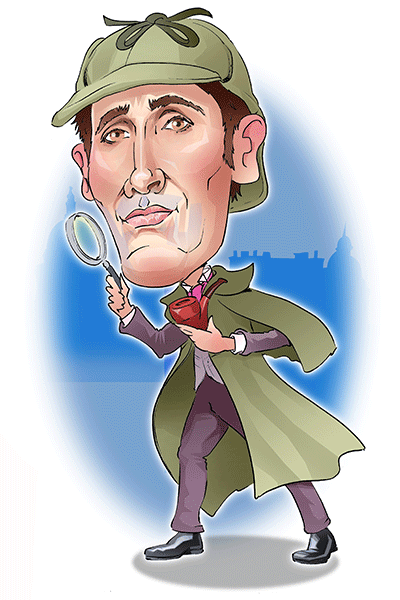 We begin at one of the World's most famous addresses, 221B Baker Street.
This, of course, was the address from which Holmes and his faithful side kick set out in search of solutions to numerous criminal conundrums.
But, why did Conan Doyle choose this particular address and, more importantly, why did his description of 221B bear an uncanny resemblance to a particular street in Edinburgh as opposed to any actual street in London?
All will be revealed as you stand at a site to which fans of Holmes and Watson have been making pilgrimages for over 125 years.
You will also discover how the bank that once occupied the site used to receive so many letters addressed to the great detective that they actually appointed a Private Secretary to Sherlock Holmes whose job it was to answer all the correspondence.
Richard will show you copies of several of the letters, some of which were very tongue in cheek, some of which were quite poignant, and others of which were deadly serious as the writers attempted to enlist the aid of a detective they evidently thought of as a real person!
A POTTED HISTORY OF HOLMES
Richard will then lay down a firm foundation for the tour ahead as he takes you through the early years of Sherlock Holmes.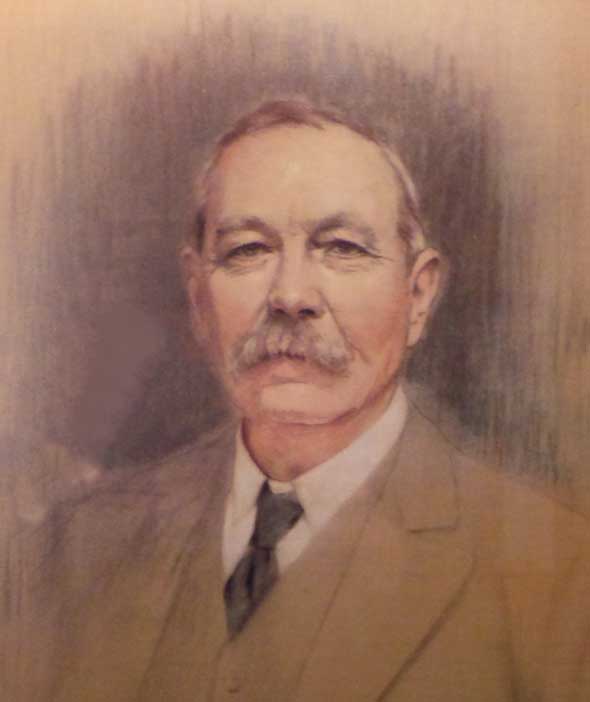 You will hear how his creator, Arthur Conan Doyle, came up with the idea for a new type of story that truly gripped the imagination of the Victorian reading classes.
Richard will tell you about the real life doctors and detectives upon whom Holmes was based - and, yes, there were several influences, not least of whom was Conan Doyle's own father, Charles.
You will then set off through a tangled maze of streets, mews and alleyways that have changed so little since Holmes and Watson knew them, that you wouldn't find it in the least bit surprising to find a hackney carriage trotting towards you through a London fog, or to glimpse a dastardly Victorian villain bounding past en route to some nefarious act of criminality!
This delightful stroll will bring us to the sturdy old building where Dr. Arthur Conan Doyle was working as an eye specialist in 1891 when, due to a lack of patients, he began devoting his energies to his fledgling writing career and started to tinker with two characters he had "already handled in two little books".
Soon, the first of his short stories featuring Holmes and Watson, A Scandal in Bohemia, had been sent to his agent, and it wasn't long before Holmes and Watson had taken on lives of their own and the name of the fictitious Sherlock Holmes was eclipsing that of his creator.
THE DEATH OF SHERLOCK HOLMES
Thus it was that Conan Doyle came to the conclusion that, no matter how famous his creation had become, he, quite simply, had to kill him off.
As you stroll through a warren of delightful old streets, lined by some of the grandest houses in London, Richard will treat you to a blow by blow account of the various, and often hilarious, methods that Conan Doyle employed to try and end the life of his meal ticket detective and how, when the foul deed was finally done, the public reacted with utter outrage and indignation at the loss of their hero.
Indeed, in the immediate aftermath of Holmes's demise, Conan Doyle was bombarded with angry letters of protest, and, on one occasion, he was even set upon by an umbrella wielding matron who screamed at him "you brute, how could you do such a thing?"
TO ANOTHER BAKER STREET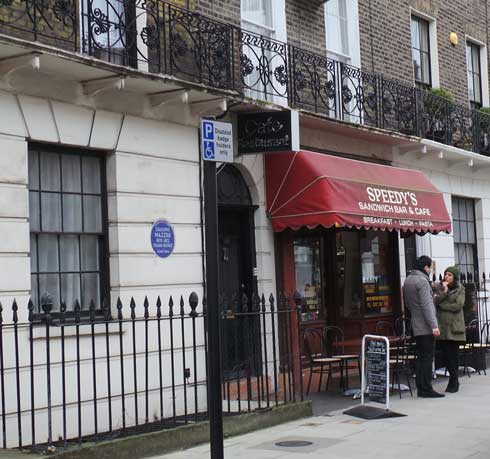 This lovely stroll through the old streets of London will bring us to Regent's Park where we will board a bus, or the underground, for a short journey to what will, most certainly, prove a real treat for all fans of Benedict Cumberbatch's Sherlock.
For here, in an otherwise unremarkable side street, you will find yourself standing outside Speedy's Cafe, in the flat above which Holmes and Watson, waited on by their long suffering housekeeper Mrs. Hudson, lodged in the television series.
GUY RITCHIE, ROBERT DOWNY JNR. AND JUDE LAW
Another short tube ride awaits us next as we speed our way over to the City of London where we take another delightful stroll through a winding warren of ancient thoroughfares to arrive at the oldest parish church in London.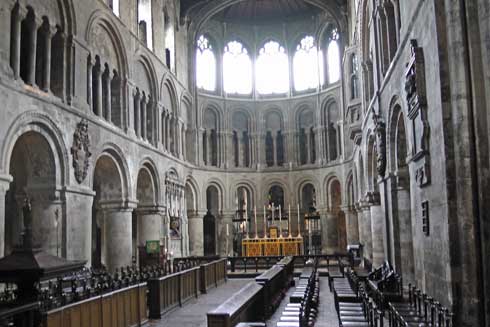 It is the church of St, Bartholomew the Great and it transports us back to the year 1123 when it was built by a jester turned monk.
It was also here, in the opening moments of Guy Ritchie's Sherlock Holmes, starring Robert Downey Jnr. and Jude Law, that Lord Blackwood was preparing a human sacrifice when he was rudely interrupted by Holmes, Lestrade and Watson.
The church has appeared in so many movies that it is, effectively, a Hollywood superstar in its own right.
You'll have seen it in Robin Hood Prince of Thieves; Shakespeare in Love and Four Weddings and a Funeral, to name just three of its cinematic appearances.
WHERE HOLMES AND WATSON MET
Following another very short walk, we arrive at St Bartholomew's Hospital where we will crane our necks to look up at the rooftop of its Pathology Department.
It was inside this grand old building that Holmes and Watson first met in A Study in Scarlet, and Richard will treat you to a blow by blow account of one of the most famous meetings in the whole genre of detective fiction.
WHERE HOLMES FELL TO EARTH
It was also from the roof of this building that Holmes, as played by the aforementioned Benedict Cumberbatch "apparently" jumped to his death at the end of series two of Sherlock.
We won't spoil the surprise as to whether or not he really did die, but the building also featured extensively in the opening episode of series three.
Clearly visible in the scene in which Holmes's body "apparently" lies dead on the pavement is the red phone box that stands outside the hospital's main gate.
Ever since the scene first aired the phone box has been a place of pilgrimage for distraught Sherlock fans from all over the World.
They scrawl messages of grief on the glass and side panels of the box.
They post stickers lamenting the loss of Holmes.
And, since the beginning of series three, in January 2014, they have even come to lament the passing of Watson's moustache!
Richard will allow plenty of time for you to examine this local curiosity, give you time to photograph the latest batch of Cumberbatch messages and, should the mood take you, provide you with a pen and sticker so that you can post your own missive to Holmes.
CITY STREETS, ST PAUL'S CATHEDRAL
AND A FILM SET QUARTER
Your Sherlock Holmes tour then continues through more of the City backstreets where Richard will point out the various curiosities that you will pass as you weave your way to St Paul's Cathedral, which also featured in the opening moments of Guy Ritchie's "Sherlock Holmes".
Some of the filming for the Guy Ritchie epic was done around the Inns of Court, London's legal enclave.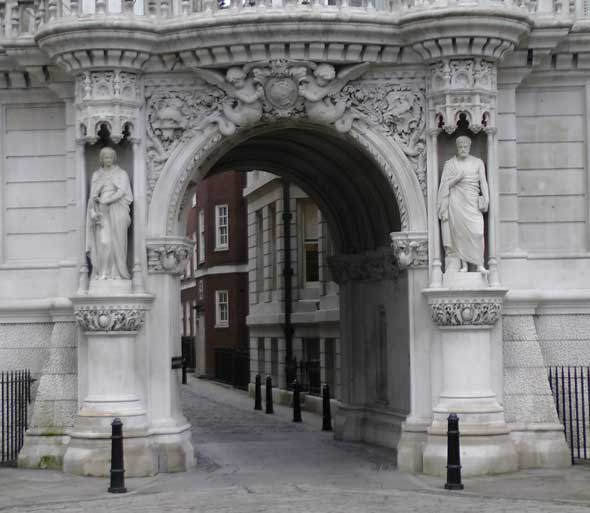 So it is for this film set corner of the Capital that we will head next as we make our way along the Banks of the Thames, enjoying some truly stunning views of such famous London landmarks as the dome of St. Paul's, Big Ben and the London Eye.
This will bring us to the Middle and Inner Temple, two of London's four Inns of Court, where we'll pass through the very arch that featured in the opening sequence of Guy Ritchie's Sherlock Holmes, and then walk along the very lane along which Watson and Lestrade raced to try and prevent Lord Blackwood's dastardly human sacrifice in the film's action-packed opening moments.
ELEMENTARY MY DEAR VISITOR!
Emerging from the time slip enclave that is the Temple, we begin our walk through the final section of our Sherlock Holmes Tour as we delve into London's Theatreland.
Our first stop will be the theatre at which the American actor William Gillette gave his trail blazing performance as Holmes and, in so doing, established several Holmesian traits that laid the foundation for future film and stage depictions of the great detective.
These included the use of a curved pipe and the deerstalker hat.
It was also Gillette who first uttered the line "Oh, this is elementary, my dear fellow", which later evolved into the most famous quote that Holmes never said "Elementary, my dear Watson."
IN AND OUT OF THE VICTORIAN METROPOLIS
Twisting our way through a muddled medley of gas lit alleyways, we pay a visit the site of the offices of the Strand Magazine, in the pages of which the majority of the Sherlock Holmes stories first appeared.
We then encounter the very restaurant at which Holmes and Watson enjoyed something nutritious in The Dying Detective and The Illustrious Client, before moving on to see the theatre at which Conan Doyle worked with J.M Barrie on a play that proved a disastrous flop.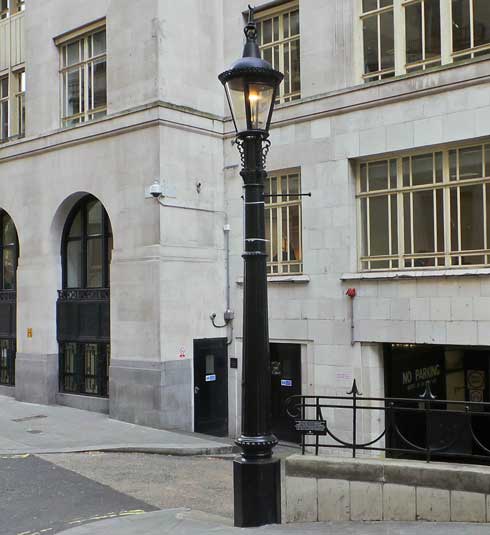 Then, having paused to admire London's only surviving gas lamp to still be fuelled by the natural gas from the subterranean Victorian sewers, we stroll across to another theatre at which another flop caused Conan Doyle to resuscitate Sherlock Holmes whose re-appearance revived Conan Doyle's finances and convinced him that killing Holmes might not have been one of his wisest decisions!
Having ducked underground to explore a shadowy series of arches, where generations of criminals hid from the forces of law and order in the 19th and early 20th centuries, we resurface to edge our way to the tour's grand finale.
THE SHERLOCK HOLMES PUB
It was on Northumberland Avenue that Holmes's most famous adventure The Hound of the Baskervilles began and, commemorating this association, is the Sherlock Holmes pub, the walls of which are decorated with an eclectic mix of Holmesian delights.
Ensconced within its atmospheric interior you will be able to study book covers, deerstalkers, magnifying glasses, manuscripts, pipes and playbills, as old black and white episodes of Holmes and Watson's adventures play, silently, on a TV screen.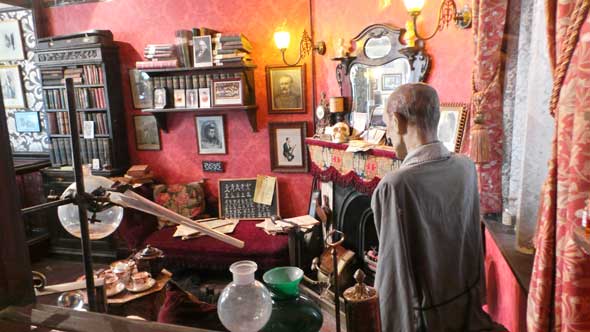 Venturing upstairs you'll even discover a faithful recreation of the sitting room at the address where our adventure began, 221B Baker Street.
Could there be a better location at which to end a tour of the London of Sherlock Holmes?
Here, surrounded by a wealth of original and intriguing memorabilia, you can settle down with a tipple of your choice and ponder the day's events, as you look back on a journey that will have taken you through the streets of Victorian and Edwardian London and on which you will have learned some truly fascinating facts about the life and times of the World's most famous, and instantly recognisable, sleuth, Mr. Sherlock Holmes.