At some stage between 1588 and 1592, a young man in Stratford-Upon-Avon packed his bags, kissed his wife and three children goodbye, and hit the road for London.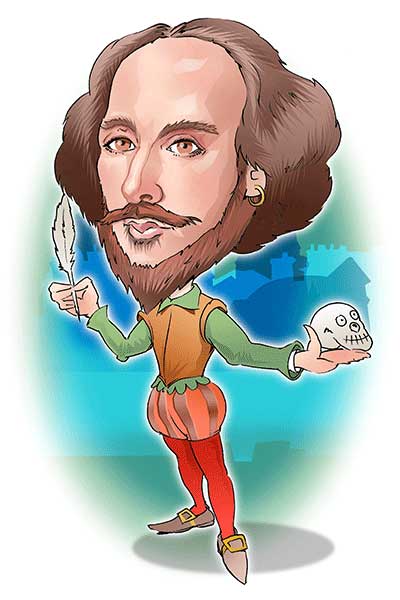 His name was William Shakespeare and, over the next few years, either by pre-planned design, or just because it seemed like a fun way to make a living, he would join one of the acting companies of the age and, by 1592, in the words of a later biographer, his "admirable Wit, and the natural Turn of the stage, soon distinguished him "if not as an extraordinary Actor, yet as an excellent Writer."
Richard's journey through Shakespeare's London follows the Bard to be from his earliest days in the Elizabethan capital and charts the highs and the lows of a career that, not only saw him rise to supreme prominence as the greatest playwright of his generation, but which also saw him impress all those who came into contact with him with his strength of character and overall likeability.
TRANQUILITY WHERE A DEADLY BRAWL BEGAN
Your tour begins with a true treat as we step through a timeworn gateway and enter the gloriously secluded Middle Temple, one of London's Inns of Court.
Straight away you are pitched back to the Elizabethan age as the rush and the noise of modern London fades to a distant murmur and you find yourself amidst quiet and cloisterly surroundings that have hardly changed, if they have changed at all, since Shakespeare knew them.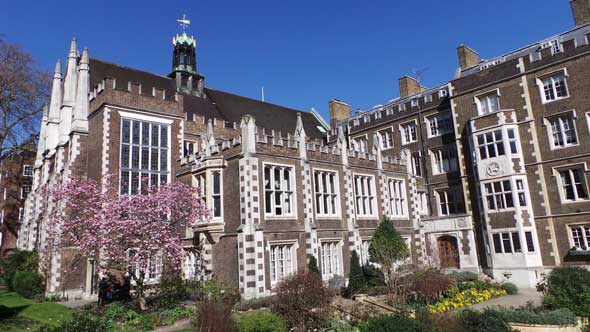 Walking the flagstone paths, you will come to one of the most picturesque gardens imaginable, a garden that has the distinction of actually being mentioned by Shakespeare in Henry V1, Part One as the setting where the rival Houses of York and Lancaster pluck the white and red roses, that will become their respective badges during the bloody conflict known as the Wars of the Roses.
Having absorbed the peaceful tranquility of this lovely garden, you will delve further into this enchanting enclave to arrive at the magnificent Middle Temple Dining Hall, a true time capsule that transports us back to the latter half of the 16th century and which is still much as it was when Shakespeare and his fellow actors arrived here on 2nd February 1602 to give the first known performance of Twelfth Night.
FROM RICHARD 111 TO HENRY V111
Our journey then picks its merry way through a veritable warren of ancient alleyways and passageways, that snake their way between and behind the buildings of Fleet Street. Here we uncover the remains of a monastic foundation that Shakespeare honoured with a brief mention - and to be honest it was a very brief one - in Richard 111.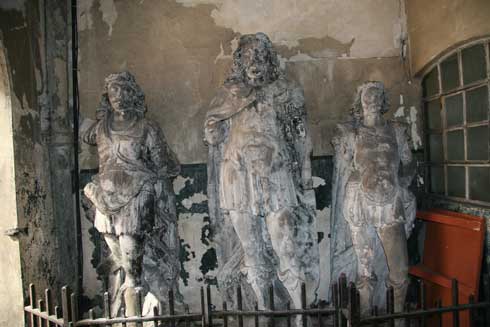 Then, by way of a few more ancient byways, in the midst of which we pause to admire three 14th century weatherworn statues that Shakespeare would almost certainly have looked up at on a regular basis, we venture into a series of historic streets that were laid out on the site of one of medieval London's most impressive monastic foundations, and one which featured prominently in the events that led to Henry V111's Dissolution of the Monasteries,
A HAVEN OF BARDOLATRY
As we wind our way through this timeless and picturesque quarter the Shakespearean associations and memories will come thick and fast.
You will see the location of Shakespeare's exclusive indoor playhouse, a site that has been described as "the most important site in English theatre history."
You will seek out the place where once stood the inn from which the only surviving letter that was actually written to William Shakespeare in his lifetime was located.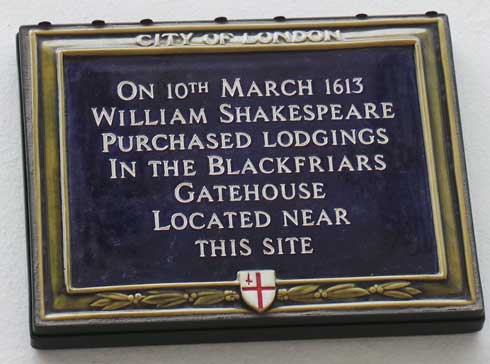 You will stand at the site of the gatehouse that Shakespeare purchased for £140 on 10th March 1613 and which, although he never actually lived there, was the only London property he ever owned.
You will duck into a picturesque courtyard where once stood the building from which Shakespeare and his fellow actors acquired the scarlet cloth that they wore to welcome James 1st to London in 1604.
And, lest all this proves insufficient to satisfy the cravings of even the most severe case of Bardolatry, then how about a peek at the place from which Shakespeare acquired his family Coat of Arms in 1596 - a Coat of Arms that carried the motto which now adorns his memorial in Holy Trinity Church Stratford-Upon-Avon, Non Sans Droit - Not Without Right?
ST PAUL'S CATHEDRAL THEN AND NOW
Easing our way gently back in to the 21st century, we will enjoy one of the most stunning views of St Paul's Cathedral before venturing into its adjoining garden to discuss its Shakespearean connections.
Now, in all honesty, the Cathedral that greets us today is not the one that Shakespeare knew. That one was destroyed by the Great Fire of London in 1666.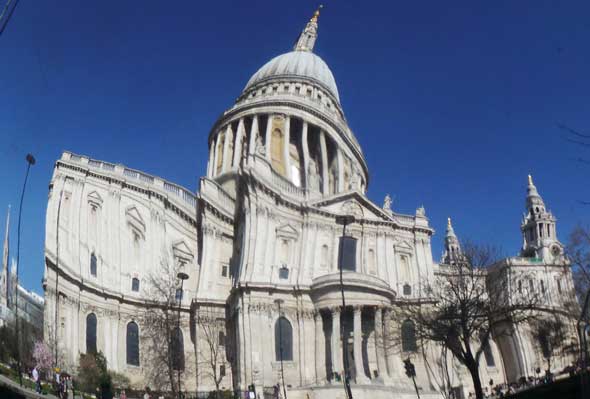 But, with a little imagination, it is possible to picture our surroundings as they would have been when they bustled with booksellers, and when Shakespeare came a-calling to purchase the books that provided him with the source material that he wove into some of his most memorable storylines.
It was also here that the first editions of Shakespeare's poetry and plays would have been sold.
So, although today's Cathedral might not be as it was in Shakespeare's day, memories of the man himself are rife around its precincts.
COMIC GOLD AT THE CITY'S CENTRE
The tour then moves on to explore yet another sequence of thoroughfares that still follow their old medieval street patterns where yet more potent memories of the Bard greet us.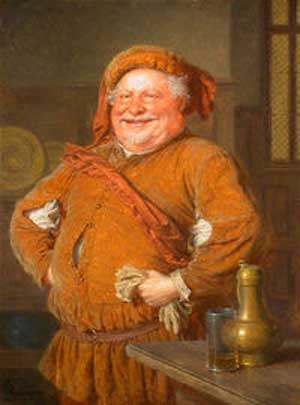 They bring us to a tucked away courtyard which stands at the exact centre of the City of London, and which occupies the site of the mansion of the man upon whom Shakespeare based one of his greatest comic creations Sir John Falstaff.
Richard will treat you to a biography of this truly memorable character, and will outline his appearances in both parts of Henry 1V and The Merry Wives of Windsor. His death is even mentioned in Henry V, albeit he has no lines in this latter play - but don't tell Laurence Olivier and Kenneth Branagh that!
THE UPSTART CROW
From this point the streets begin a noticeable decline as we descend towards the banks of the Thames, following in the footsteps of long ago citizens who would have walked this way en route to the Elizabethan theatre district which was located on the river's opposite bank.
However, we will make a brief detour to visit the site of the hovel where, in 1592, the university playwright, Robert Greene, lambasted the young William Shakespeare in a death bed diatribe in which he described the new playwright as an "upstart crow" who had "beautified himself with our feathers."
High praise indeed!
SHAKESPEARE'S GLOBE PLAYHOUSE
Our revels then take us over the River Thames where, having descended a flight of decidedly sinister-looking stone stairs, we will cross to the site of Shakespeare's Globe Playhouse.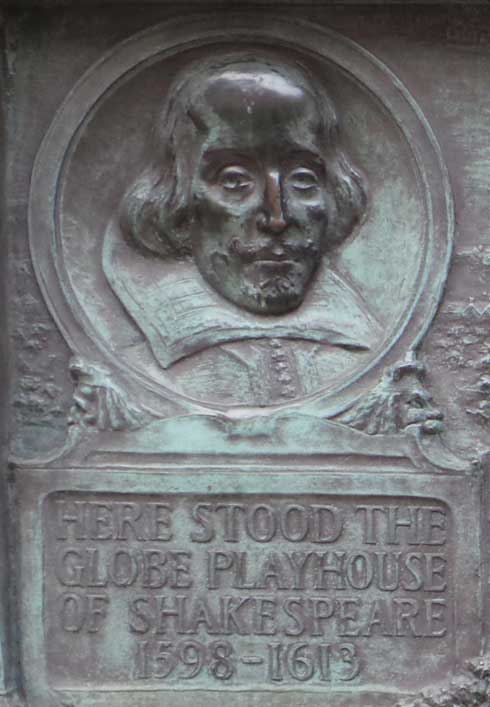 Forsooth, can there be a more fitting highlight on a tour of Shakespeare's London than to gaze upon the very spot where audiences were once enthralled by the first airing of some of his greatest plays and most memorable lines?
Although nothing of the theatre itself now survives above ground, Richard will treat you to a narrative that will spirit you back to the age of Shakespeare and which will recreate the excitement, the tension, the humour and the emotion with which the air hereabouts would have crackled as audiences not only watched in amazement as some of theatres greatest characters came to life before them, but also joined in with the action - commenting, cat-calling, whistling and bantering with the actors!
THE ROSE, THE FERRYMAN AND THE NEW GLOBE
As the curtain begins to come down on your journey through Shakespeare's London, you will cross to the site of the Rose Playhouse, which was owned by the impresario Philip Henslowe, and at which Shakespeare's 1 Henry V1 - or as Henslowe's erratic spelling in his account book put it Harey the vj - was performed in 1592 and ended, for us at least, the period now known as Shakespeare's lost years.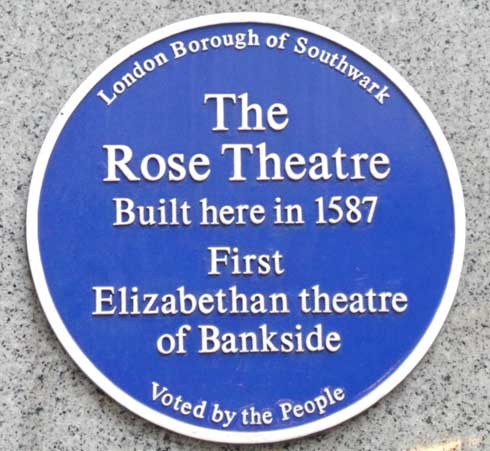 Indeed, it was probably the huge success of this play that brought forth Robert Greene's death bed tirade against young Shakespeare.
From here, we dive into a wonderfully evocative old alleyway, named for the fact that the not so wonderful "entertainment" of Bear Baiting once took place here, at the end of which we will encounter a true relic from the past - the old stone seat on which the ferryman once sat as he waited to take theatregoers back across the adjacent River Thames.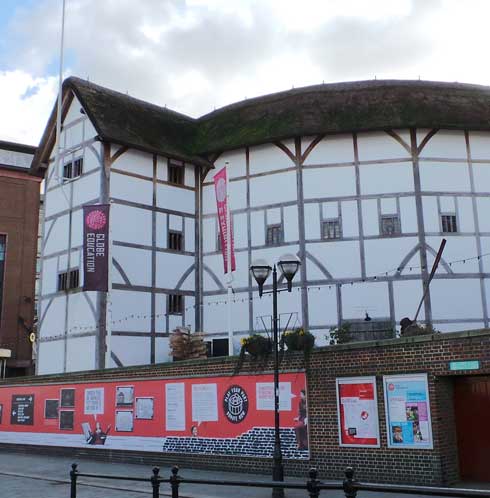 Finally, as the last moments of a memorable journey ebb away, we arrive at the wonderful recreation of the Globe Playhouse where you can, if you wish, even pay a visit to its fantastic exhibition, which tells the story of the Elizabethan Theatreland that you will have just explored, and where you will have the opportunity to see recreations of some of the very streets that you have been walking through as they were in Shakespeare's day.
Can there be a better place to end a tour of Shakespeare's London? We think not, which is why the tour ends here!
There are some lovely old pubs on this side of the river, and Richard will happily recommend one where you can round off your tour with a meal, or just sit and relax as you look back over a tour that will have taken you through the streets of Shakespeare's London, and which will have shown you parts of London that you would never have dreamt still exist. But they do, and you will have explored them!
Exit Richard!