There really is no better day trip from London than Oxford.
By train, it takes around an hour to get from the centre of London to the heart of Oxford. By Road, it takes a little longer.
But, whichever mode of transport you opt for, once you arrive in the place that Matthew Arnold famously described as "the city of dreaming spires" you'll take a sharp intake of breath at the stunning vistas that greet your every step.
Because Oxford is a truly magical and enchanting place and few who explore its timeless colleges and history-steeped thoroughfares fail to fall under its spell.
FROM LONDON TO OXFORD
Richard's favoured method of getting his clients to Oxford is to take them there by train. It's such a lovely and relaxing way to travel. No sitting in seemingly endless traffic jams as you attempt to get across London in the morning rush hour.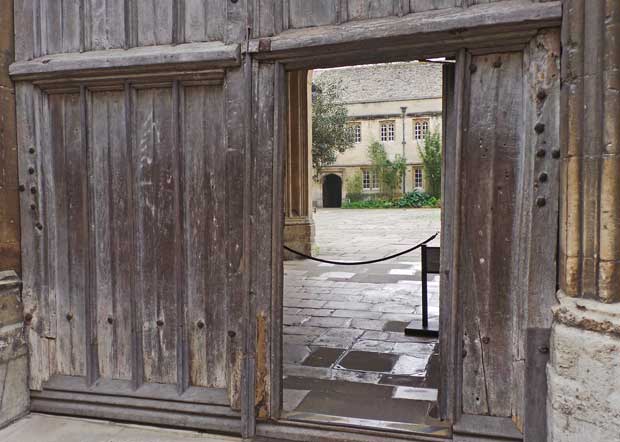 You can simply meet Richard at Paddington Station, hop on the train and, in just over an hour, you're walking out of Oxford Station ready to enjoy a fascinating day of genuine discovery.
Even the walk into the centre of Oxford from the train station is delightful as, within moments, you'll be strolling along the side of lovely canal hearing tales of places that inspired Lewis Carol's Alice's Adventures in Wonderland.
How's that for a magical introduction!
OXFORD CASTLE
A THOUSAND YEARS OF HISTORY
By way of the wonderfully named "Quaking Bridge" - and don't worry you'll find out why it's so called as you cross it - we slip into the grounds of Oxford Castle.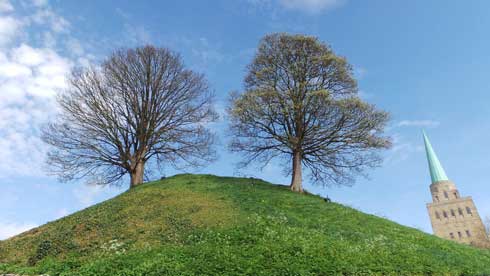 Looming before us will be the prominent mound on which this mighty fortress was erected in the wake of the Norman invasion of 1066.
Here, Richard will pause to regale you with some of the tales from its eventful history.
For centuries, this was also the town jail and it is the buildings of this place of detention that now occupy the site, and we will make our way past them on our journey into central Oxford.
OLD ALLEYWAYS AND HISTORIC BUILDINGS
Having squeezed through one of the longest and narrowest alleyways imaginable we will emerge into the hustle and bustle of Oxford City centre where we will encounter a mix of old and modern buildings.
Many of them have fascinating stories to tell and Richard will ensure that, whenever this is the case, you won' miss out on any morsels of the rich and varied history.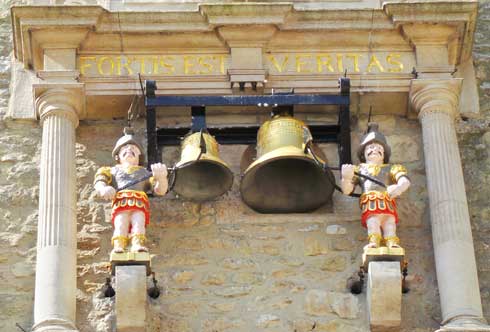 You'll even duck into a hidden courtyard to see the old inn at which Shakespeare, reputedly, used to stay at whenever he made is way from London to Stratford, or vice versa.
You'll then see the old church tower, that boasts a very special clock, to which, during the frequents battles between the university academics and the rough a ready townsfolk, the latter used to retreat and from the top of which they would then proceed to hurl insults and projectile down onto the heads of the furious scholars!
CHRISTCHURCH - A UNIQUE INSTITUTION
It's then time to visit our first college of the Oxford tour.
So, following a gentle stroll past more of Oxford's historic buildings, we'll take a left turn through an ancient gate and, suddenly, the hustle and bustle of modern Oxford will fall away and we'll find ourselves amidst the bucolic surroundings of Christchurch meadow.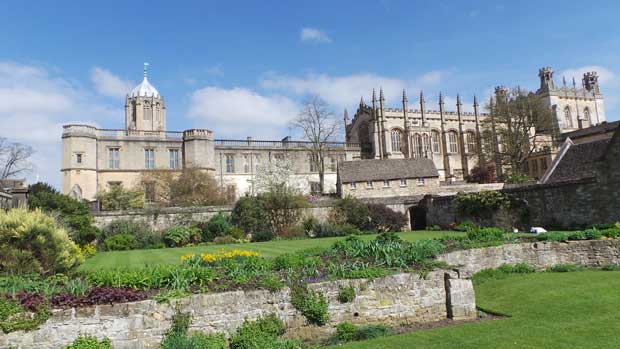 To one side will be the rural expanse of the delightful meadow, to the other will be the picturesque buildings of Christchurch, an Oxford College that has the unique distinction of also being a Cathedral.
Passing into the secluded haven of the college's cloisters, we'll make a beeline for what is without doubt once of Christchurch's crowning glories - the dining hall.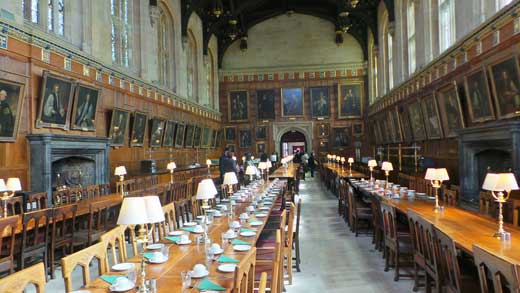 On a day that will be brim full of sights that will, quite literally, take your breath away, Christchurch dining hall will leave you positively panting for breath!
And, if, perchance, you or any of your party are fans of the Harry Potter movies, then you'll almost certainly recognise it as the place that the Hogwarts dining hall was based on in the films.
Having perused the dining hall to your hearts content, we'll move on to enter another of the college's crowning glories, Christchurch Cathedral.
Richard will show you the remains of the shrine to St Frideswide, the patron Saint of Oxford, and will take you through her colourful story, using a wonderful stained glass window to illustrate it.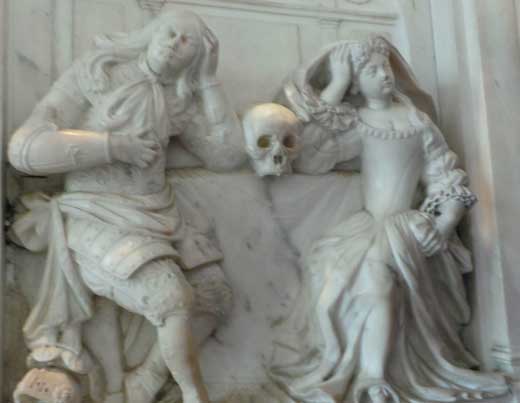 You'll gaze up at the curious "Watching Loft" that looks down on the shrine, and you' uncover many other fascinating monuments and memorials, not least of which will be the "Cavalier Monuments" one of which is decidedly macabre in appearance.
As you stroll through the peaceful quads and courts of this time slip of a college, Richard will tell you of some of the famous names associated with its illustrious past. Cardinal Wolsey, Henry V111, Charles 1st, William Penn, Lewis Carol and Sir Christopher Wren are just a few of the long list of famous names to have strolled through the very places you will be exploring.
THROUGH PEACEFUL BACK LANES
Bidding a fond farewell to the glories of Christchurch College, we pick our way through the back lanes of Oxford to catch glimpses of all sorts of wonderful and secret places.
Demonic gargoyles, their faces twisted and contorted into all manner of strange and bizarre expression will gaze down upon us.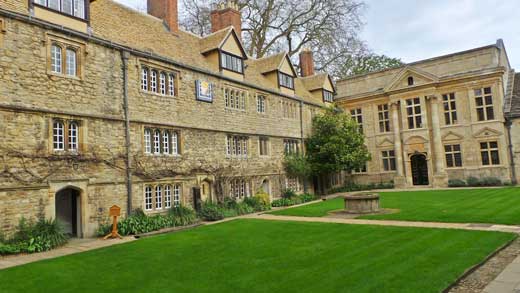 Sleepy college cloisters and peaceful squares will nestle behind half open doors, the peeping through of which will give you the distinct impression that you are looking back into the past.
Colourful dwellings will line some of the cobbled streets along which we will walk, and the whole harmonious scene will be imbued with the overall ambience of scholarly seclusion.
THE NOT SO NEW NEW COLLEGE
Stepping through another gate, we will enter the grounds of New College which, given it dates back to 1379, is anything but what its name implies!
However, its grounds are amongst the most stunning of any Oxford College, and it also boasts the best preserved section of the old town walls.
Add to this, the atmospheric cloisters, and you can see why it is that many of those who stray into its quads and grounds are loathe to leave a place from which the past has yet to depart.
SURPRISES ABOUND
But more treasures and surprises await you as you continue your walking tour around Oxford's secret places.
Indeed, we have a whole sequence of fantastic places to visit.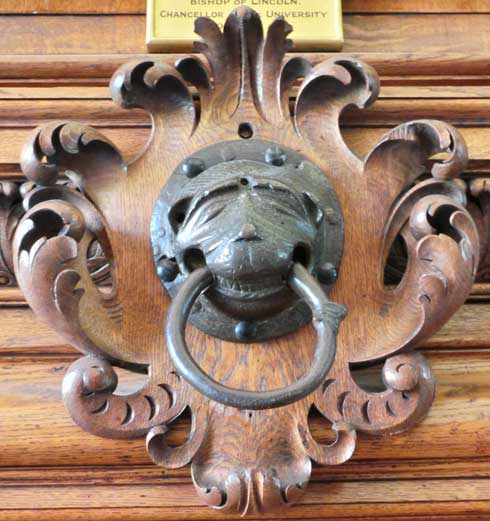 Passing beneath Oxford's "Bridge of Sighs", and strolling past the iconic Radcliffe Camera, we enter the sleepy interior of yet another college - Brasenose.
Imbued with its own distinct atmosphere, and boasting links with the likes of William Golding, author of The Lord of the Flies, and David Cameron, Brasenose College is a truly special place.
Richard will even take you into its dining hall to show you the Brazen Nose itself, and tell you how eventful its history is.
THE NARNIA DOORWAY
Having explore all there is to explore at Brasenose College, you'll find yourself confronting another piece of enchanted, and enchanting, history as you slip in to an alleyway where the inspiration for a truly memorable literary scene came from.

Tradition holds that C.S.Lewis was attending a service in the adjacent church one cold winter's night when he had to leave.
Making his way out to the back door of the church, he had to push his way out through the coats that were hanging there.
Having done so, he found himself in the alleyway you will be standing in, with a lamp post to his right, two magnificent satyrs adorning the porch opposite, and the face of a Green Man, looking very much like a lion, at the centre of the door.
It was one of those moments when literary history was made. For he later incorporated the scene into The Lion, The Witch and The Wardrobe with Edward, going through the hanging clothes into Narnia to meet with Mr. Tumus.
You'll be able to get lots of photographs and, should you so desire, you'll also be able to recreate the scene for your own amusement. But which one of you will play the wicked Queen!
THE BODLEIAN LIBRARY AND SHELDONIAN THEATRE
From this point we start a slow amble back to the railway station. However, by slow amble we do mean slow!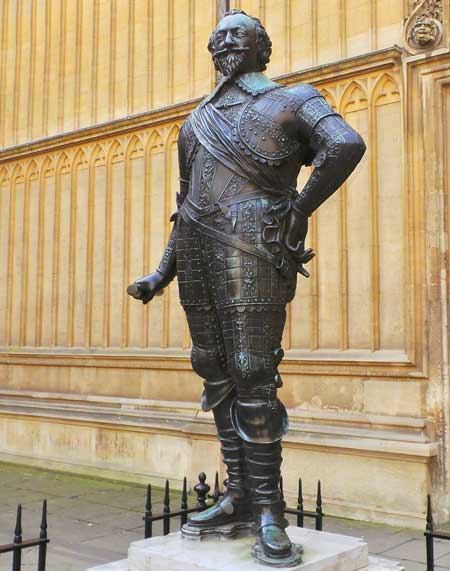 We begin by admiring the exteriors of some of Oxford's most iconic buildings The Bodleian Library, The Divinity School and the absolutely glorious Sheldonian Theatre.
The sheer pleasure of gazing at these buildings is inspiring enough, but Richard will draw your attention to oft-missed aspects that will increase your appreciation of them ten-fold.
Your eyes will dance across an eclectic array of grimacing gargoyles, serene statues and fascinating features of architecture that you might easily miss if you didn't know they were there.
AND THERE'S MORE!
Having absorbed these historic surroundings for as long as you wish, you will then head off via the exteriors of several other colleges to pass the spot where the Oxford Martyrs were executed in the reign of Queen Mary Tudor.
Just around the corner from the sombre location is another lovely college, St John's and we'll make a stop here to enjoy the splendour of its justifiably renowned gardens.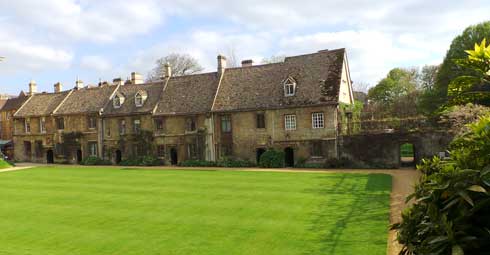 From here we will embark upon the final leg of our magical journey through Oxford, pausing as we go to make one final college visit and step into the tranquil grounds of Worcester College.
Being slightly off centre this lovely college doesn't get the volume of visitors that some of the other colleges get, which makes it a wonderful finalé to our day.
Richard will show you its secret cloisters and introduce you to its exquisite gardens and tell you of its associations with a very memorable scene in Alice in Wonderland.
From here it's just a short walk back to the train station where we can board our train and race back to the centre of London in plenty of time for any evening arrangements you my have made or have in mind.
On the train back to London you can go through your photographs and ask Richard which one was which, where it was, and so on and so forth.
Can there be a better way to end a fascinating day spent exploring a city that is, not only steeped in history, but which is also an absolute delight to the eye?