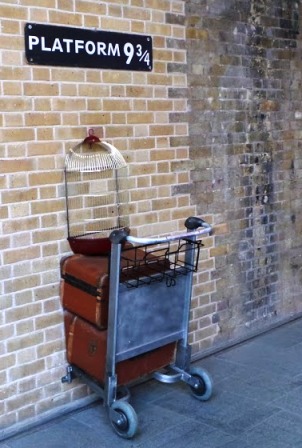 London is a real treasure trove for all fans of Harry Potter.
Not only is it the location of numerous important wizardly sites, such as the entrance to Platform 9¾ and Diagon Alley, but it is also home to many other instantly recognisable locations that were used in the various Harry Potter movies.
Richard's Harry Potter film locations tour will take you to many of these magical places whilst, at the same time, and for the muggle-minded members of your party, giving you some fantastic views of some of London's most iconic, World famous sites and sights.
So, in short, this tour will provide a suitable introduction to London for all ages and all interests.
Harry Potter fans will get to see the places that featured in the various films, whilst those who are not so enchanted by the boy wizard, and his group of sorcering friends, will also find plenty to do, see and interest them as they make their way around some of the most historic parts of London.
WE BEGIN WITH THE PENULTIMATE
To begin with we materialise, much as Harry, Hermione and Ron did in Deathly Hallows Part One at the junction of Shaftesbury Avenue and Piccadilly Circus. We'll then follow in their footsteps as they head off for a truly memorable encounter with a couple of lurking Death Eaters!
A STROLL THROUGH DIAGON ALLEY
Next, we'll apparate our way (and if apparating proves beyond us we'll simply walk) to the thoroughfare that, many believe, was the real life inspiration for Diagon Alley. Nearby, located in a suitably hidden underground shopping arcade, is the World's oldest magic shop, a place where Daniel Radcliffe actually appeared to be schooled in the sorcerer's arts.
WATCH OUT FOR THE DEATH EATERS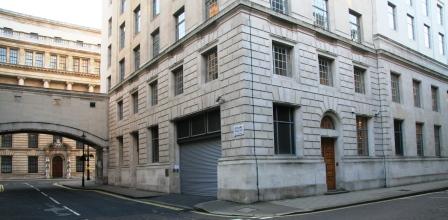 Hurrying across Trafalgar Square, lest the Death Eaters swoop down from on high and destroy it, much as they did in Harry Potter and the Half Blood Prince, we pick our way to the corner where the telephone box was located via which Harry and Mr. Weasley descended into the Ministry of Magic in Harry Potter and the Order of the Phoenix.
Fortuitously, it was the same corner on which Harry, Ron and Hermione stunned the three Ministry of Magic employees in order to transform themselves into their likenesses courtesy of a draught of polyjuice potion in Deathly Hallows Part One.
Having allowed time to act out the scene, we will follow them as they make their way to the staff entrance to the Ministry which, if you recall, involved employees using the rather novel entry method of flushing themselves down a toilet. Be honest, haven't we all had days that start like that!
THE HEART OF WESTMINSTER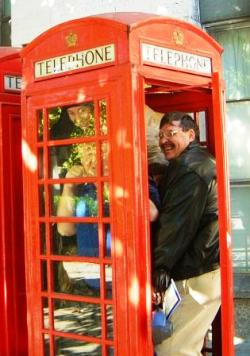 We'll then make our way through the heart of modern Westminster where we will pass a line of red phone boxes where you can, if you wish, attempt your own descent into the Ministry of Magic and, if that proves impossible, then at least you'll have some great photographs of your valiant attempt!
Crossing Westminster Bridge, we'll edge our way along the south bank of the River Thames to enjoy an absolutely stunning view of Big Ben and the Houses of Parliament on the opposite bank.
This brings us to the bridge over which the Knight Bus drove in Harry Potter and the Prisoner of Azkaban.
Then, via the main entrance to the Houses of Parliament, and past Westminster Abbey, we'll make our way to Westminster Underground Station to enter through the very barrier that caused no end of confusion for Mr. Weasley as he tried to negotiate his way out of it in Harry Potter and the Order of the Phoenix.
THE WIZARDS BANK
A short tube journey, followed by a short walk, brings us to the location of Gringott's Bank (please note we won't be able to see inside on weekends and public holidays) before we board our very own Knight Bus, well to be precise the number 15, which we'll take to St Paul's Cathedral.
As we weave our way along Strand and in to Fleet Street, Richard will point out various landmarks that you will enjoy fantastic views of from our top deck vantage point. He'll also point out the two ancient giants that have been performing an onerous, and repetitive task, day in and day out, since 1683.
ST PAUL'S CATHEDRAL AND THE RIVER THAMES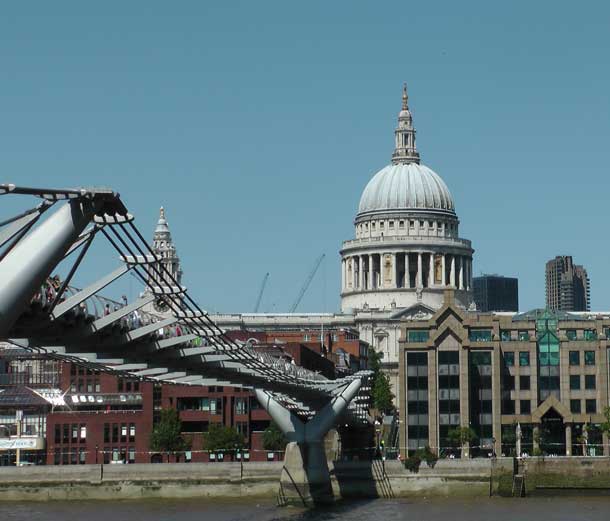 Here, we'll take a little time to admire the stunning exterior of Sir Christopher Wren's masterpiece, and the location of the geometric staircase which, although rarely open for public viewing (the staircase not the Cathedral), featured in Harry Potter and the Prisoner of Azkaban, and then we'll hurry over the Millennium Bridge, keeping a wary eye on the sky above, lest the Death Eaters are still in pursuit and might, at any moment swoop down to destroy it, just as they did in the memorable opening scene of Harry Potter and the Half Blood Prince.
Picking our way along the picturesque south bank of the River Thames, from which you'll get some absolutely stunning views of St Paul's Cathedral and the City of London skyline on the opposite bank, we'll encounter Borough Market, where the entrance to the Leaky Cauldron was located in HP and the Prisoner of Azkaban.
VIA THE LEAKY CAULDRON AND DIAGON ALLEY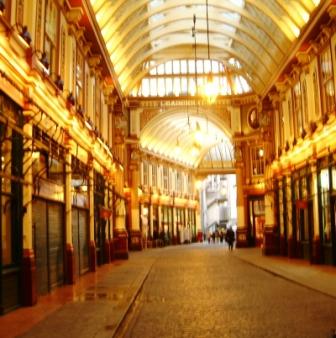 Moving quickly over London Bridge, we'll slip into a tiny side passage of London's most beautiful Victorian market (C1881) where we will follow in Harry and Hagrid's footsteps along what was Charing Cross Road in Harry Potter and the Goblet of Fire. It was also here that the entrance to the Leaky Cauldron was located in that film, so we'll pause for photographs outside it.
Then, via a snaking warren of time-trapped passageways, we'll make our way to Bank Station, where a short tube journey will bring us to the grand finalé of the Harry Potter London Tour, King's Cross Station.
IT'S PLATFORM NINE AND THREE QUARTERS
Richard will show you all the locations that have been used here, tell you the special reason why J.K. Rowling used it as the departure point for the Hogwarts Express, and end the tour by Platform 9 and three-quarters itself, where you can line up to have your photo taken pushing a trolley into the wall like a student sorcerer en route to Hogwarts.
So, if you're looking for an enjoyably magical day that will, not only show you many of the Harry Potter film locations that have been used around London, but which will also give you access to some of London's most enchanting and hidden away places, then let Richard work his particular brand of magic and watch as the streets of Harry Potter's London come to life before your very eyes.